JUNGLE HAMMOCK INFORMATION
CUSTOMER COMMENT - Hey Tom, I purchased the Jungle Hammock about a year ago. I have tent camped, used a bivy and sometimes just a mat. I have two steel rods in my back from a car accident about four years ago and ground camping in remote areas leaves me tired in the morning with an aching back. Your hammock has changed all of that. I now can sleep very well over rough ground or anywhere and have no problems in the morning. Just the other night I was out in very strong thunderstorms and heavy rain - I was totally and completely dry the whole night. This product is very well made. The sleeve for a sleeping pad is a great design idea, it works to help provide insulation and keeps the bugs from biting through at night. I now am able to enjoy the outdoors again in total comfort. All I can say to anyone reading this is buy this hammock. It will be the best money you have ever spent on outdoor gear period. Nate Friedl (June 2009)
MOST COMFORTABLE HAMMOCK OPTION
JUNGLE HAMMOCK & FLY
Design: Designed for extreme wet jungle climates. Camouflage waterproof fabric. 100% waterproof, and there is a double bottom layer to slide a foam pad in for snow and winter camping. Longer, stronger and heavier than the Expedition Hammock, so it can handle taller and heavier people. The Diamond shaped Rain Fly Sheet has 4 reinforced attach points and comes with 4 lines. Elastic cords hold the mosquito netting away from your face. This hammock is used by the Foreign Legion in French Guiana, the Italian Marines, the South African Defense Force, the British Special Forces, Irish Guards and Queens Guards. This is our best hammock and should last 5 years of hard use. If you don't need the mosquito netting, then just flip the hammock over and sleep on the other side (with the netting hanging down below). Color: Camouflage or Dark Olive. Stuff Sack: Camouflage or Dark Olive. Material: 244 ripstop Nylon. Hammock Dimensions: 300cm long x 125cm wide (9' 9" long x 4' wide). Comfortable for a person up to 7' 5" and 350 pounds. Rain Sheet Dimensions: Diamond shape - 400cm long x 300cm wide & 250cm along each side (13' long x 10' wide). Stuff Sack Dimensions: 30cm high x `8cm wide. Weight: 1.8kg. (4lbs.) for Hammock & Fly. Jungle Hammock Review.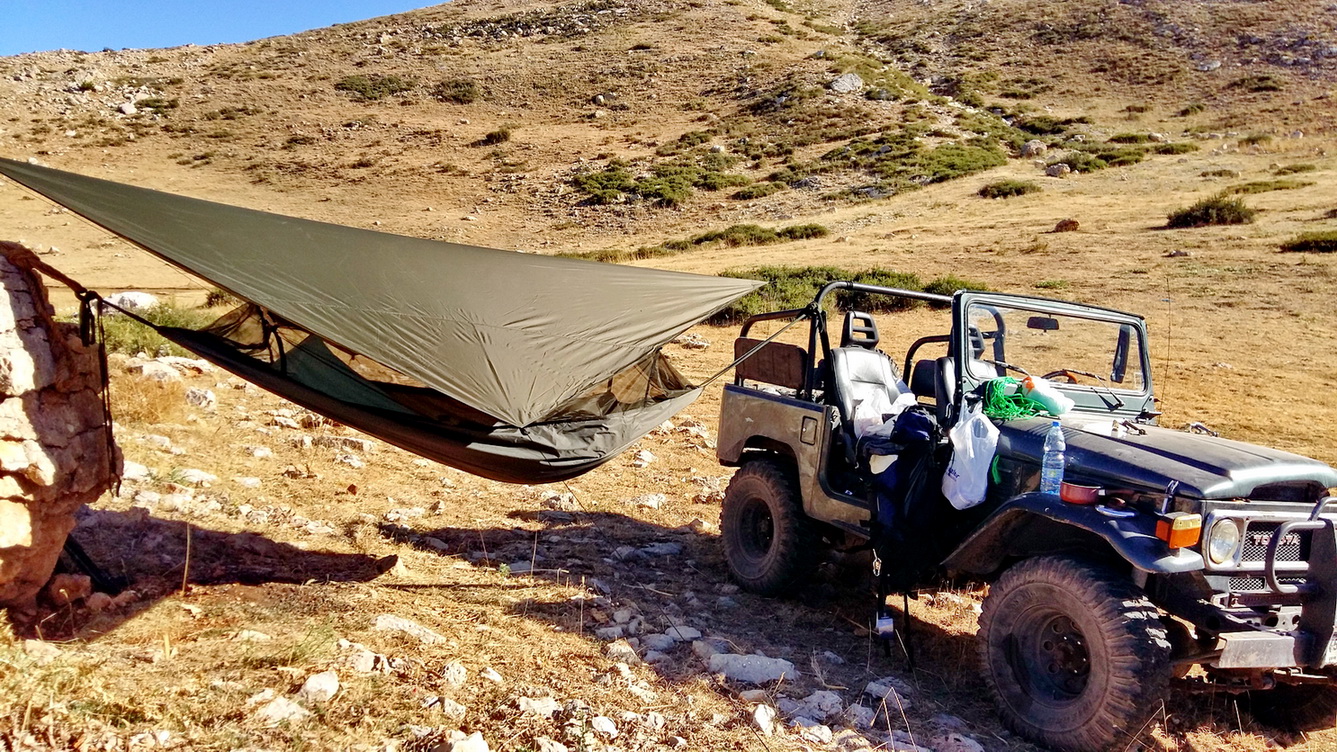 Alex Asmar in the Sannine Mountains, Lebanon (Jun 2016)


Tom Fairweather's Jungle Hammock (olive color) in the Malaysian Jungle


Jungle Hammock (camo) set up from a Kayak in 20 minutes during the Ayutthaya Floods (Oct 2011)


Koren Laszlo winter camping with his Jungle Hammock in Hungary


Chase Howerton showing us how it's done. Jungle Hammock in camp (Apr 2013)


Ben Claytor uses Jungle Hammock on his 60 day Bike Trip across USA (Jun 2014)
You

Tube

HAMMOCK REVIEWS
Swedish Bush School uses Jungle Hammock (Aug 2014)
Jungle Hammock review by Paul Baidatsky (Aug 2013)
Jungle Hammock review by Nick Crandell (Oct 2013) - comparison to competition
How to set up a Jungle Hammock with 3mx4m Fly by Neo - shows Hammock Sleeves
Jungle Hammock with 3mx4m Fly - walk around under rain fly
Jungle Hammock review by Jeff Parry (2010) - Australia Motorcycle Tour
HOW TO STOP RAIN DRIPPING DOWN THE LINES TO THE HAMMOCK
Many people ask us the best way to stop rain coming down the lines to the hammock in a rainstorm. Some people have cut a piece of plastic or a clothes clip to clip onto the line, but we find the best most secure way of preventing water running down the line is to connect two carabineers in series on the line (close to the hammock). The water cannot travel from one to the other, so it will drip off. This requires 4 carabineers and you will have to cut the lines to insert them. They also will add to the weight of the hammock if you are carrying it. However, we have noted that this system works well.

We use a sturdy YKK zipper which you can open from the inside or the outside. The Jungle Hammock is Extra Long and Extra Strong. Reports from the field have confirmed that the design is also very comfortable for sleeping. The dark colored netting is very fine mesh which is easy to see out of. It will keep out mosquitoes, no-see-ums, and black flies, and the elastic cords will keep the netting away from your face and body. In many countries of the world, with different types of resistant malaria, sleeping sickness and dengue fever, the best prophylactic is "not to get bitten." This hammock is designed to keep you from being bitten from insects and prevent disease. If you have any questions, please email me -- TOM
The hammock comes with two 12 foot long (1/2" nylon web) straps. It is important to use the Correct Knots in hanging the hammock. The ends of the hammock are reinforced for the strap to pass through, and these straps can easily be slid out and replaced by a longer rope if desired. Comments from our customers. Watch Jungle Hammock Tester Neo in action as he sets up the hammock on YouTube.
The stuff sack for Jungle Hammock and Fly measures 13" high x 6" wide and weighs 1.6kg (3.5lbs). This hammock can also be used on the ground or on your bed as a personal "mosquito tent" if you don't like sleeping in hammocks (or if there are no trees nearby). It also very useful for keeping out snakes, scorpions and everything else while you sleep. The lines can attach to a tree branch or a stick to hold up the netting away from your face. Mosquito Hammocks are for traveling lightly, so we suggest that you consult OneBag -- as the art of traveling lightly is knowing what not to take. Here is another site on TIPS for Hammock Camping.
DIAMOND RAIN FLY

The Diamond Rain Fly comes with 4 lines for the 4 attach points. There is also an additional long line as a spare. The attach points on the corner of the Rain Fly are reinforced with nylon web, and we suggest you use a double sheet bend for attaching the line to the Rain Fly loops. Double Sheet Bend Knot

The Diamond-shaped Rain Fly Sheet is made of waterproof Nylon Tafta (210T) and provides the maximum rain shelter with the minimum amount of material. This rain sheet only has 4 attach points, so that you can tie two lines to the tree and then the other two lines you can stake out perpendicular to the hammock. The rain sheet extends 50cm. beyond each end of the hammock. You can tie a knot in the line for the rain to drip from, so that it does not run down the line to the rain fly. If you want more information on mosquitoes, please try www.mosquitosolutions.com or www.zapmosquitos.com/mosquito.

Troy Marshall hanging out above the water -- Jungle Hammock on the Appalachian Trail with www.whiteblaze.net

Rich Ashworth winter camping -- Ruben Wu relaxing in his Jungle Hammock on Malcapuya Island in the Philippines (Aug 2014)

Justin DeRuyter with his Jungle Hammock on the Deschutes River - Oregon, USA (2016)

Troy Marshall on the cutting edge of Jungle Hammock testing

Troy Marshall finding the most extraordinary places to hang his Jungle Hammock